Kay Jordan was a tireless campaigner for small businesses and social enterprises in the Spitalfields area. More than anyone she understood how rising property prices and the expansion of the City would threaten community based business initiatives. For decades she devoted herself to building and protecting social enterprise that addressed the needs of the local community.
Kay always took the side of the underdog and was never impressed by the shiny rhetoric and money of big developers. Her intelligent and incisive attention to detail provided local residents and community organisations with a powerful advocacy in planning matters. Kay would cross swords with anyone to defend the interests of Spitalfields. Her principal weapons were the truth and integrity she deployed in her advocacy for the part of London she had grown to love.
Phil Maxwell
29 / 12 / 2010
What a tragedy!
I had been trying to get in touch with her (we have parallel carreer paths and used to meet periodically) but lost touch recently
Can anyone tell me what funeral arrangements or memorial service there will be: I want to pay my respects.
My condolences to her family
Mike Franks
Clerkenwell Workshops
30 / 12 / 2010

This was very sad to hear and came as a shock to me.I was made aware of her passing away over the weekend by Imran from SSBA, of which Kay was the Director. I was fortunate enough to meet her through Imran. I had many enligtening discussions with her, that ranged from community politics, community enterprises and community development particulalry whilst completeing my dissertation on social enterprises at University. She had a wealth of experience in the community sector and made an immense contribution to the community life of the east end, although I would say she was a bit left of my politics and would not entirely agree with her on some policy issues. Regardless of this, her heart was always in the right place, always thinking about the causes of deprivation and barriers facing the community and leaves us with a legacy of her work in helping to found numerous successful businesses in the community.

Humaiun Kobir
30 / 12 / 2010

So sad,Kay was an absolute rock of a woman.
please let me know about the funerel

DAVID BOSWELL
30 / 12 / 2010

It is very sad what happened, hope her family is well.
Will be at the cerimony in spirit, as abroad at the moment.
Rest in peace Kay!

Nelson Ferreira
31 / 12 / 2010

As one of the artists in 7-15 Greatorex Street, I've always felt privileged and grateful to be in this historic building transformed with such care, judgment and imagination. There is somehow a sense of creative possibility that is part of the atmosphere of the place. Whether or not she was actually in the building, I always had this feeling when I came in as an aspect of Kay's presence.
It is very daunting to realise she will not be there now to catch a glimpse of in the office or to say hello to passing in a corridor. She will be hugely missed.

Susan Butler
31 / 12 / 2010

I'm deeply shocked and saddened by the news of kay's passing. I remember a conversation we had a few weeks ago, in which I really sensed her passion, energy and determination. It was obvious to me that Kay was a formidable human being.
I shall miss her greatly. God bless Kay.
Christopher Lane
01 / 01 / 2011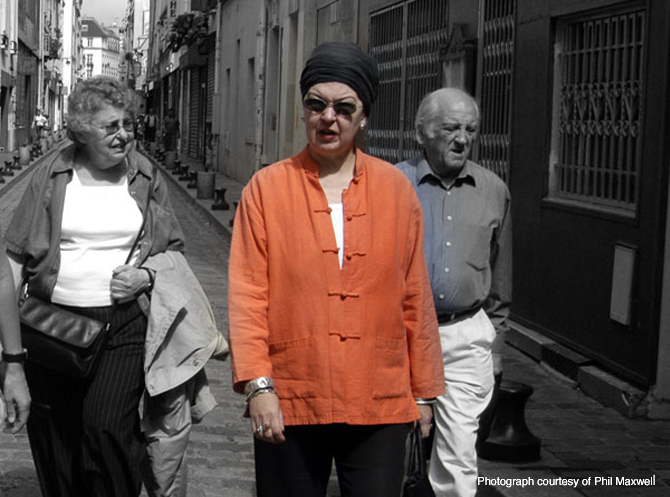 The shock of this loss will be felt so widely and so deeply. Kay made her projects felt in such a personal and dynamic way, that I could never walk about 'our' studios on Greatorex Street without being aware of her influence, her choices in the buildings themselves. I so deeply admired all she stood for, was in awe of her, and will always feel privileged to have witnessed her extraordinary intelligence, quick understanding, and humour. Such a sad time for all at SSBA, for her family and for all of us, but she leaves amazing legacies in the work she has done. Thanks Phil and Haz for the beautiful photos and tributes.

Anne Menpes
03 / 01 / 2011

It was very sad to hear the news of Kay's passing. The College had the pleasure of working with Kay through Poetry in Wood for a number of years. She was a tireless campaigner and real champion for her students and was always immensely proud of their achievements. With deepest sympathy to Kay's family and friends.
Michael Farley
Principal, Tower Hamlets College
06 / 01 / 2011

I was so shocked and saddened to hear the sudden death of Kay Jordan. I never thought she will pass away so unexpectedly. I rang you up but you were in a meeting. I left my condolence with Corona. Kay will be sadly missed. She was an exceptionally hard working woman who I have been known for nearly thirty years.
Please accept my condolence and may God bless her departed soul.
Faruk Bath
Shahnan Employment Beuro
07 / 01 / 2011

On behalf of the Board of Directors and the staff of British Bangladesh Chamber of Commerce we are saddened to hear about the loss of Kay Jordan. May almighty bless the departed Soul and bestow her with the reward of Heaven.
Please accept our deepest condolence and may the Almighty give her family strength in this difficult time.
Abssar M Waess
Director General
07 / 01 / 2011

I was deeply saddened to hear of Kay's passing and would like to offer my thoughts and sympathies to her family and colleagues at the BDC in Greatorex Street and the SSBA. Working in the BDC from 2002 to 2005 I would spend many evenings working late. As I was leaving I would see Kay in the office still working and we would have the chance to speak and share the issues of the day. Kay was an inspiring woman who openly shared her knowledge and guided me through the nuances of property and land developers and their impact on communities and their self determination. Her commitment to supporting artists and creatives and her belief in the role they play in regeneration was unflinching. I continue to use her expert wisdom in my work today.

Mhora Samuel
(Chief Executive, CIDA, 2002-2005)
08 / 01 / 2011

I am writing to extend my deepest sympathies to the Spitalfieds Small Business Association and to the family members of Kay Jordan. I was very sad to hear about her passing.

Shafiur Rahman
Six Oranges
10 / 01 / 2011

Please accept our heartfelt thoughts and condolences, Kay will be dearly missed
Our warmest sympathies from all at BRAC UK

Staff, Trustees and Volunteers
BRAC UK
10 / 01 / 2011

Here at Clean Bean we're all shocked by the sad news. Hope you're all O.K at what must be a very difficult time.
Clean Bean owes its existence to Kay's generosity & support.
She won't be forgotten.
Neil McLennan
Clean Bean
10 / 01 / 2001

To all at SSBA and Kay's brother & family.
Thinking of you with sympathy at this sad time.
We all hope God gives you the courage to bear the loss of Jay Jorda, a unique person, who was a beacon of light to lots of people who knew her and had the privilage of working with her.
All at Ankur Architects
10 / 01 / 2011

I was shocked and so very saddened to hear about Kay. Kay has been part of Spitalfields ever since I can remember [I joined SHA in 1996 and I quickly became aware of her role in the history of SHA and the Spitalfields area]. I didn't see her that often, but she was best friends with my friend and former SHA employee, Ruth Holmstock – I think they studied together – and so I met with her a few times with Ruth. She was really committed to local people, and she has left a very big gap. There are not many people like Kay any more. She will be sadly missed.

Stephanie McDonald
Spitalfields Housing Association Ltd
14 / 01 / 2011

I heard the very sad news about Kay from Chanu, Alan, Shajeda (BBCC), Nargis and many more. Just a sign of how we all felt about her.

Meeting & knowing Kay was a privilege. In the days of SHDA, she was always patient & tolerant of my endless questions and queries. Always happy to explain why & the what. However her unwavering belief in standing up for & supporting the 'right' thing or the importance of understanding and not to de value or under estimate our opponents will be lessons that will stay with me forever.

I am afraid I am not able to attend the funeral which is taking place this coming Monday 17th Jan. Please pass on my condolences to her family and to her wider family at SSBA.

I will miss her greatly and her passing away is a loss for us all.

My love & best to all.

Maher Anjum
14 / 01 /2011

Only just heard the sad news about Kay's passing. All the thoughts of Oxford House staff, volunteers and trustees with you, her family and SSBA team.
Although I only met her a few times she was just the sort of advocate the East End community needs with courage (and a good memory of promises and good /bad deeds!).
All our love
John Ryan
The Oxford House in Bethnal Green Ltd
17 / 01 / 2011

Kay Jordan was the rock and pillar during our hard times in London.
We have come to know her as an astute fighter for moral justice and also as an extremely kind person.

We love her dearly and miss her.
Harry Melkman
Romer Publications
02 / 03 / 2011


In 1997 we spend almost half a year as interns at the SSBA and therefore had the privilege to work with Kay. It was only now that we heard this terrible news. What a shock!
She was one of the most inspirational people we have ever met. Friendly, talented, altruistic, humorous and absolutely determined to make way for 'her' tenants. We have learned so much from her, perhaps most of all how important it is to chase after your goals. Thank you so much dear Kay and rest in peace.

Niko Helder
Erwin Schievink
The Netherlands
08 / 02 / 2013